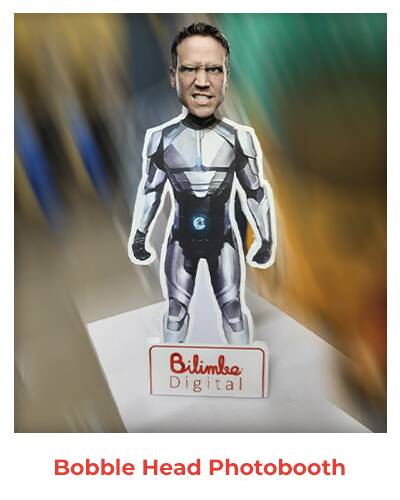 Elevate Your Event with the "Bobble Head Photobooth."

Are you searching for a unique and entertaining addition to your next event? Look no further than Bilimbe's Bobble Head Photobooth! Whether it's a birthday party, wedding reception, corporate gathering, or any special occasion, our Bobble Head Photobooth is sure to leave your guests amazed and your memories unforgettable.
What is a Bobble Head Photobooth?
A Bobble Head Photobooth is not your typical photo booth experience. It's an interactive and entertaining way to capture the spirit of your event. Unlike traditional photo booths that produce static pictures, Bilimbe's Bobble Head Photobooth adds a fun twist by creating 3D bobble head figurines of your guests.
Why Choose Bilimbe's Bobble Head Photobooth?
Personalized Keepsakes: With our cutting-edge technology, we transform photos of your guests into custom bobble head figurines. These one-of-a-kind keepsakes are not only great fun during the event but also become cherished mementos for years to come.

Endless Creativity: Our Bobble Head Photobooth offers a wide range of customization options. You can choose from various themes, backgrounds, and props to match the theme of your event. Whether you want to go classic or quirky, we've got you covered.

Engaging Entertainment: Watching the transformation from a regular photo to a bobble head figurine is a delightful experience. It adds an element of surprise and entertainment that keeps guests engaged throughout the event.
How Does It Work?
Using Bilimbe's Bobble Head Photobooth is a breeze. Here's how it works:
Strike a Pose: Step into our photobooth and strike your best pose. Our high-quality cameras will capture your image from multiple angles.

Customize Your Figurine: Choose your preferred figurine style, outfit, and accessories. We offer a variety of options to suit every personality and occasion.
Watch the Magic: Within minutes, you'll witness the magic as your photo is transformed into a bobble head figurine right before your eyes.

Take It Home: Your personalized bobble head figurine is ready to go! You can take it home as a memorable keepsake
Why Bobble Head Photobooths Are a Hit?
Bobble Head Photobooths are gaining popularity for several reasons:
Unique Experience: It's a departure from traditional photo booths and offers a fresh, exciting experience for guests.
Great Icebreaker: It encourages mingling and interaction among guests as they compare their bobble head figurines.
Memorable Souvenirs: Attendees leave with a unique and personalized keepsake, ensuring they remember your event long after it's over.
Social Media Buzz: Guests love sharing their bobble head creations on social media, increasing the visibility of your event.
When you choose Bilimbe's Bobble Head Photobooth, you're not just capturing moments; you're creating lasting memories. Make your event unforgettable with our innovative and entertaining photobooth experience. Contact us today to book Bilimbe's Bobble Head Photobooth for your upcoming event and let the fun begin!

Don't miss to explore our Caricature Photobooth, another exciting Bilimbe product, guaranteed to add a touch of wild fun to your event. Bilimbe takes your occasions to a whole new level of excitement!
Exciting new products
for the events
Trendy new products for the events