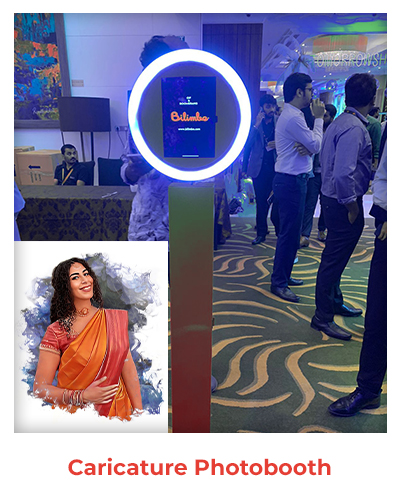 Caricature Photobooth: Adding Playful and Fun to Your Events in Chennai, Bengaluru, Hyderabad, and Mumbai
In a world where events are constantly seeking novel and engaging experiences, Bilimbe's Caricature Photobooth has emerged as a delightful option. Whether you're hosting an event in Chennai, Bengaluru, Hyderabad, or Mumbai, this innovative service adds a whimsical touch that guests of all ages can enjoy. This article explores the enchanting world of caricature photobooths and how Bilimbe brings life to events with their artistic flair.
Caricature Photobooth: Infusing Creativity and Laughter
Caricature art has the incredible ability to capture the essence of a person's features while playfully exaggerating them. Bilimbe's Caricature Photobooth takes this concept to events across Chennai, Bengaluru, Hyderabad, and Mumbai, allowing attendees to not only receive personalized caricatures but also become a part of the creative process.
The Experience: How It Works
1. Step Up to the Fun: As guests approach the caricature photobooth, they're greeted by talented artists ready to transform their features into whimsical drawings.
2. Strike a Pose: Attendees strike a pose as the artists work their magic, capturing the unique elements of their appearance.
3. Personalized Artistry: In a matter of minutes, the artists create stunning caricatures that highlight individual characteristics in a lighthearted manner.
4. Instant Keepsakes: Guests receive both a memorable experience and a cherished artwork to take home, making the event truly unforgettable.
Bilimbe stands out in the caricature photobooth landscape for several reasons
Artistic Mastery: The artists at Bilimbe are not only skilled but also passionate about their craft, ensuring that each caricature is a true masterpiece.
Inclusive Entertainment: Caricature art appeals to people of all ages, making it a perfect addition to diverse events, from weddings to corporate gatherings.
Interactive Engagement: Unlike traditional photobooths, Bilimbe's caricature setup encourages interaction between artists and guests, adding a dynamic and engaging element to the experience.
Liven Up Various Events
From weddings to corporate events, Bilimbe's Caricature Photobooth can be seamlessly integrated into a range of occasions:
– Wedding Galas: Add a touch of amusement to your wedding by providing guests with personalized caricature souvenirs.
– Corporate Events: Break the ice at corporate functions with caricature art, fostering a light-hearted atmosphere.
– Birthday Bashes: Make birthdays extra special by gifting attendees with unique caricature portraits.
– Festive Celebrations: Whether it's Diwali or Christmas, caricature photobooths bring an element of joy to holiday gatherings.
Call us at +91 98403 98703 for more information on caricature photobooth.
Exciting new products
for the events
Trendy new products for the events